Last week, a few of my favorite bloggers in the world decided to host a link up today and I couldn't pass it up, but I also have a commitment to myself to post my daily gratitudes every week. The beautiful thing is how much these two things are one in the same for me. Their brilliant link up is asking what inspires you, what gives you ideas to write about.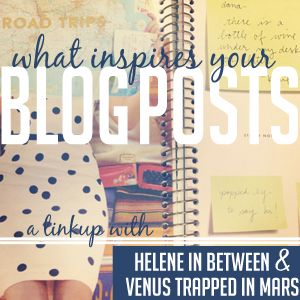 I started this blog for a few reasons. I like writing. I love pictures. I love taking a little time each day to reflect on the things I've been thinking about and the things that make me happy. I wanted a way to document my 30 before 30 list. I wanted a place to dump the past attempts at blogging I've made so they are in one place.
Other places I go to when looking for ideas? Other bloggers (
Steph
,
Erin
,
Tami
and
Nadine
are a few that I find awesome content on), funny emails, random quizzes in magazines, wine - yes just drinking it inspires me sometimes, trashy television and then there was that one time (or two times) that I went MySpace old school and answered
these questions
and
these questions
.
I started my #dailygratitude on Instagram right after Christmas and this is week 30 of sharing it on the blog. It is one of my favorite posts to write each week because I look at the 7 pictures I posted and get happy about them again. Being able to make this a link up has been awesome on a whole new level. Seeing the little things that make other people happy is great for me.
1 - On a 97 degree day, it was kind of nice to reminisce about our awesome Big Sky skiing trip.
2 - I love when those two cuddle... seriously.
3 - Burrito night with J's parents - no meat and they still liked it.
4 - A really good girl's night at the Package Tour and then a slumber party at our house (plus a husband that drives us and puts up with a house full of giggling girls.)
5 - Interrupted yoga is OK when it comes in that little gray form.
6 - My husband to the rescue with a mini flower and an iced Starbucks drink.
7 - The most beautiful summer evening.
So there you have it. If you are looking for inspiration, take a look around and appreciate some of the little things.