I've asked one of my favorite bloggers,
Steph
, to help me out today. I remember first reading her blog and seeing the term "hausfrau" and loving it. Going along with my
2014 resolutions
, I thought it would be great if Steph could help
me
us all out with a few tricks & tips.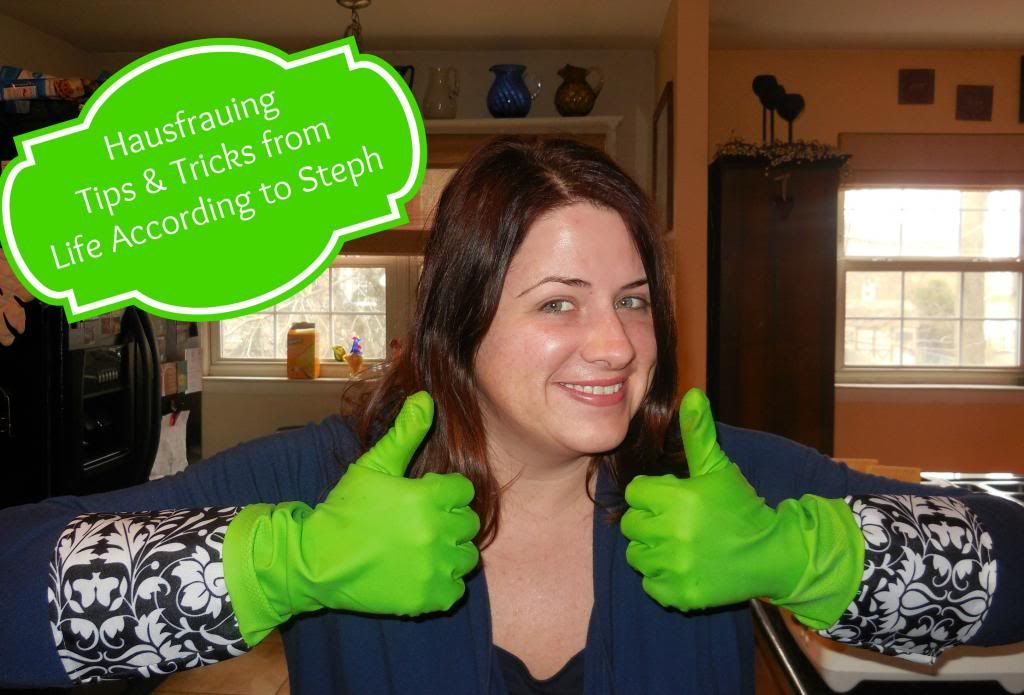 Hello! I'm Steph from Life According to Steph, and while I wouldn't say I enjoy hausfrauing, my mind isn't at rest in a chaotic environment, so I feel better when I stay on top of purging, organizing, and hausfrauing. Plus what's the sense in paying a mortgage (or rent) if you're going to live in filth? You might as well bunk at the skeevy by the hour motel.
Here are some tips, tricks, and ways of thinking about hausfrauing that will hopefully make it easier for you to get through:
1. My Daily Dos -
If you take 15-20 minutes and do these things daily, your house will never be a total mess and your weekly cleaning will be short and sweet. I stick to My Daily Dos hardcore because I don't want to spend my weekends scrubbing:
Wipe down kitchen counters

Wipe down bathroom sinks and toilets

Assess laundry and do as needed

Pick up around the house for 5-10 minutes in the morning or before bed - I do it before bed.

Make your bed. Everything in your room is instantly less messy from the second you wake up.
2. For everything else, group chores and stick to a schedule. I group chores and stick with a schedule. It's a routine I'm comfortable with, and it means I'm never cleaning for more than 30 minutes a day even if it's a heavy day. How many times do you put off vacuuming and seriously, it takes about 5 or 10 minutes? Email me if you want a copy of my schedule.
3. Pick Up Tricks
- Walk around the house with a laundry basket and a trash bag. Trash goes in the bag and anything that needs to be transported to another room goes in the laundry basket. Put things away as you go room to room. It will save you from running all over the house while picking up.
4. A place for everything, and everything in its place
- If it doesn't have a place, find one for it, donate it, throw it out, or recycle it. You have no business having something that doesn't have a place.
5. Monitor Your Crap Pits: Everyone has a room/closet/drawer/area where things go "until we can put them away." Keep your eye on yours and don't let it grow into the Trash Heap from Fraggle Rock.
6. Be Fierce with your Closet: If you haven't worn it in a year, it needs to go. By the time you fit in it again, you won't want it. If you fit in it and haven't worn it in a year, you don't like it enough to keep it.
7. Take Anti-Hoarding Measures: If something comes in, something must go out. I learned this from my Grandmom. It's a good checks and balance system in every room of the house unless you're starting from scratch.
8. Deal with Paper:
When you open your mail, put it in a recyclable, trash, or action pile. Then act on it.

You should not be keeping any paper that's not something having to do with taxes or other serious government crap.

Scan everything else in. If you don't have a scanner, download the Genius Scan app on your iPhone and use that.

If you feel like you must keep

manuals that come with appliances and other home related items, store them in a binder.
9. Don't dilly dally. The quicker you do it the quicker it's done. Don't sit down until you're finished.

10. Don't get side tracked by organizational, redecorating, or deep cleaning projects. Save those for another day.
What about you? Do you have any tips to share? Do you clean all at once or break it up into daily pieces?