Good morning Monday. It's the week before Christmas and we wrapped up our Christmas shopping last night and are mailing some boxes full of fun to Minnesota this morning. With Christmas and holidays on the mind, I figured we'd do a little holiday Q&A today. I'm always curious about other people's holiday traditions.
Today, I teamed up with one of my favorite bloggers, Steph from
Life According to Steph
, to talk about Christmas things. When she sent me the picture below, I was easily as excited as just getting a card in the mail (so I hope that is a picture you have used in the past on cards.) Since we share the same fabulous name, I will just color my answers
green
and hers will be
red
. Duh - Christmas colors.
1. Being a dog person, what special traditions/gifts involve your pups for the holidays?
We always take their pictures in some sort of Christmas gear, even though they hate it. They also get a new toy even though there are toys and bones all over the house already. And special treats, which is really all they care about.
Ha, our dogs get very special treatment (including gifts from their aunts & uncles). Plus, our Christmas card usually revolves around them. Lola LOVES the squeakers in toys and we found one this year that has 12 different squeakers in the toy. We will pay for that later, but she is going to go nuts.
2. Which holiday movie character is most like you?
The Grinch - I'm not the Christmas Cheerleader, but during the last week or two before Christmas, I'm buoyed by the spirit of the season and my Grinch heart grows three sizes until I'm shouting Ho Ho Ho Mofos from the rooftops. Not even the horrible seasonal drivers can get me down then.
Bah. She says that but was also responsible for hosting the coolest giveaway in all of blog land two weeks ago. She gave $25 to the charity of the winners choice. If that doesn't get everyone in the holiday spirit, I don't know what does. Anywho, my character would probably be Ellen Griswold. She's the kind of lady that tries to keep everything together (but sneaks in the back for a shot or two when she can.)
3. Best Holiday GIF you can find.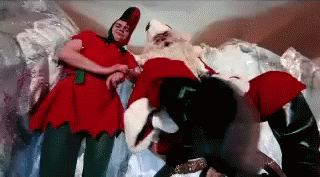 GIF's usually give me motion sickness, but this makes me laugh. A lot.
Because sometimes I just want to say that after Santa says Ho, Ho, Ho. Also, I'm thirteen years old.
4. What is your favorite ornament and why?
I have a lot of favorites, ones from our travels that bring back good memories or ones that are sentimental. But given the above, I'll go with this one.
I am the same way. I love all the ornaments on our tree, but for some reason, I get most excited about this one every year.
5. What Christmas song do you sing to (like Kevin McAllister style) every single year?
All I Want for Christmas is You by Mariah Carey and Last Christmas by Wham
Kentucky Homemade Christmas by Kenny Rogers and Holly, Jolly Christmas by Burl Ives (or anyone that sings it).
What about you? What character are you? And, go check out Steph!!! I love reading her blog every day, because she has the best ideas on posts (I may have borrowed a few), she has great recipes and she has 3 amazing little dogs. Some of my favorite posts include:
My Kind of People
,
I Believe
and every single one of her "Thursday Thoughts" posts (
here is the most recent
).
Happy Monday.