Totally random, but I found this today and encourage you to try it out. You just type in your information and explore the blog world - around you or far away. Maybe you are curious about people that live in Kansas - have they ever been to OZ? Or maybe you just like seeing pictures of sunshine so you check out Arizona.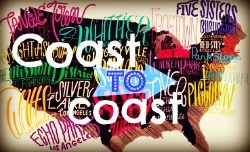 On to my weekend, I barely left my house and it was amazingly awesome. Friday night, my whole family came over for a little happy hour at my house. My brother and Jen were in town for the weekend just checking out some suburbs. I'm not getting my hopes up yet, but it sounds like she is applying for some jobs in the Twin Cities and possibly saying goodbye (temporarily) to South Dakota. They brought us cupcakes from Cupcake on University. HOW HAVE I NEVER BEEN THERE? Check out their website if you're local and make it part of your plan next weekend.
Saturday was our big adventure out this weekend. My niece has been asking to go skating since January and this weekend was clear on everyone's calendar, so we made it happen. My sister in law, Holly, and her family came down to St. Paul and we went skating. It was both of the girls' first times. Kennedy might be a little too young, but she is pretty fearless and tried a few times. She had way more fun being pushed around on the chair or laying on the ice and letting us pull her.
Kenzy did such a good job for her first time. She pushed the chair for a while and then switched to just holding hands and before the first hour was up - she was able to do this:
I have coached lots of kids through their first time on the ice and I would say she is in the top 10%. She didn't give up and she had lots of fun. She learned how to get up on her own - which is one of the hardest things. I can't wait to take her again.
We followed up skating with lunch which was amusing. Kennedy decided to play dress up with all my accessories. That girl loves an iphone. She is two, but she knows how to turn the camera around so she can see herself and she was able to take 19 self portraits within in the first 30 seconds.
Saturday afternoon was spent lounging around. I finished the 3rd Nora Roberts book in the bride quartet and made a vegetable soup in the crock pot We had a nice warm dinner and then took the dogs for a walk. They were so happy to be out running around in the nice weather. After dinner, we curled up for a movie. We watched We Bought a Zoo.
I'm not a Scar Jo fan, but I love Matt Damon so much that she didn't bug me in this movie. I loved this story and the little girl in this movie was so adorable. This is the first movie in a while that I would purchase and watch numerous times.
Sunday morning was relaxing. We made vegetarian chili in the crock pot for lunch and had AMAZING corn bread muffins. I must have the taste buds of a southern girl because I love corn bread. We had lunch with my in laws and chatted about our Disney trip - I just can't talk about it enough. After lunch, we headed over to Minneapolis to Bloody Mary Sunday Funday at Brady & Kelsey's. We had a good afternoon eating banana cream pie and enjoying bloody's and playing guitar hero. Last night, we watched the Oscars. I have just a few thoughts.
Seth McFarlane did way better than I thought he would.
I love Harry Potter - especially when he's dancing and singing.
Red heads are taking over Hollywood.
I really can't stand Kristen Stewart and I can't figure out why she was there.
I love Jennifer Lawrence and Daniel Day Lewis and I'm totally OK with both of them winning.
Anne Hathaway is getting better at being a normal person at awards shows, but she should keep her nips under control... not attractive.
Jennifer Lawrence falling down was a great moment and she recovered beautifully.
I love musicals.
I missed Gary Busse barking at people on the red carpet.
E's "mani-cam" was dumb.
I loved Sam Jackson's velour suit.
That's all for my weekend. Now, I'm going to read about other people's more exciting adventures :)